Watch Her Back (Side)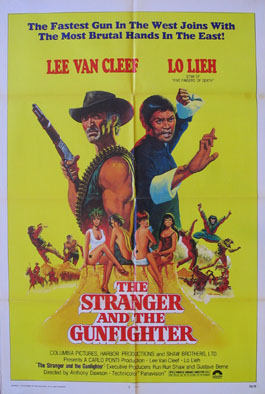 THE STRANGER AND THE GUNFIGHTER is one of the more unusual films I've seen lately. Originally released in Europe in 1974, it's an Italian/Hong Kong co-production, a rare combination of the western and martial arts genres. Probably influenced by the David Carradine TV series KUNG FU, THE STRANGER AND THE GUNFIGHTER is an entertaining kung fu western with a strange concept, one that is unique to the best of my knowledge, but I wouldn't be surprised to learn that someone else has used it.
The awesome Lee Van Cleef plays a charming thief named Dakota who blows up a safe belonging to a Chinese man named Wang. The explosion accidentally kills Wang, who is rumored to be worth a fortune, but the only things in the safe are a fortune cookie and four photos of four different women baring their backsides.
In jail the night before his hanging, Dakota is visited by Ho Chiang (Lo Lieh from FIVE FINGERS OF DEATH), Wang's nephew, who reveals that his uncle tattooed portions of a treasure map on the asses of his mistresses. Since Ho is unfamiliar with the United States, he rescues Dakota from the noose, and the pair team up to visit the four women, check out their tushies, and find Wang's fortune. Sounds like a nice job if you can get it.
Hot on their trail is sinister Yancey Hobbitt (Julian Ugarte), a brutal preacher who drags his own church around on the back of his wagon. His woman is one of Wang's former mistresses, and Hobbitt finds out about the treasure when Dakota takes the key to her chastity belt away from him to check out her portion of the treasure map. Hobbitt figures he can build his own church with the cache and recruits a hulking Indian, whom he discovers wrestling for money, to be his sidekick.
THE STRANGER AND THE GUNFIGHTER was directed by Antonio Margheriti, a decent filmmaker who made entertaining movies in just about every genre, including science fiction and horror. Here he demonstrates a sense of humor that allows the normally stern Van Cleef to show off a lighter touch than usual (Lee even sings in the picture). Lo Lieh pretty much steals the film anyway with several rousing kung fu scenes underscored by Carlo Savina's rock-oriented music that differs from the standard spaghetti western soundtrack.
On iTunes:
EDWARD SCISSORHANDS Main Theme--Danny Elfman
"Poetry in Motion"--Johnny Tillotson
"Painted Ladies"--Ian Thomas (whose brother Dave was a member of the SCTV troupe)
"Everything I Own"--Bread
"Disco Duck"--Rick Dees (yes, I know this song sucks ass!)
HALLOWEEN radio spot
Theme from DANGER MAN--The Red Price Combo
"Girl, You'll Be A Woman Soon"--Neil Diamond
"Who Dat?"--The Jury
"Think of Me"--The Cindermen
"Have You Ever Seen the Rain"--CCR
"Manic Monday"--The Bangles
"September Girls"--Big Star
Posted by Marty at 6:01 PM CST