James Booth, R.I.P.
Now Playing: DEEP SPACE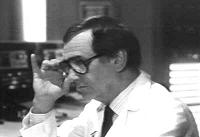 Actor James Booth has passed away in Essex at age 77. Booth was an extremely distinguished British actor with roles on stage and in major films like ZULU and THE JAZZ SINGER. So distinguished, in fact, that it's difficult to imagine such a man also being a screenwriter of Michael Dudikoff movies, but he was. Two of Dudikoff's best films for Cannon, AVENGING FORCE and AMERICAN NINJA 2: THE CONFRONTATION, were penned by Booth, who also played Dudikoff's suspicious CIA contact in AVENGING FORCE and later appeared with him in AMERICAN NINJA 4: THE ANNIHILATION.
In Booth's honor, I watched another of his late-career films tonight. DEEP SPACE is an Earth-set ALIEN ripoff, shot in seven weeks on an alleged budget of $1.5 million by director Fred Olen Ray. Ray had just made THE TOMB for Trans World Entertainment, and eagerly jumped right back in bed with them for DEEP SPACE.
Booth's role is a small one, and was probably performed in a single day. As sinister government scientist Forsythe, he's responsible for a spaceship containing a slimy monster and its two eggs that crashes near Los Angeles. The toothy Charles Napier plays a typically unorthodox movie detective assigned by by-the-book boss Bo Svenson (Buford Pusser in the WALKING TALL sequels) to investigate the bloody murders of a pair of teenagers. Napier and partner Ron Glass (BARNEY MILLER) encounter interference from the U.S. government, while Napier simultaneously receives mysterious phone calls from psychic Julie Newmar (Catwoman!) and quality sack time with sexy policewoman Ann Turkel (HUMANOIDS FROM THE DEEP). The killings are being perpetrated by a trio of slimy monsters with tentacles and big teeth that were developed by the Defense Department to use against our enemies, but are now on the loose in Los Angeles
None of this is very original, but it's all done with good humor. Ray tosses in enough tongue-in-cheek action (Napier serenades his date by playing bagpipes!), gore and recognizable character actors like Anthony Eisley (JOURNEY TO THE CENTER OF TIME) and Michael Forest (BEAST FROM HAUNTED CAVE) to make DEEP SPACE an OK time-passer. The screenplay by Ray and T.L. Lankford could have used a few new twists; Newmar's role seems to have only been added because the writers couldn't figure out any other way to wrap up the plot.
It's cool to see Napier play the lead for once. He tosses off some one-liners ("I'm gonna kick some monster ass!"), gets all gored up while whaling his opponent with a chainsaw, and even gets to make out with Ann Turkel.
Posted by Marty at 11:20 PM CDT