Swamp Thing Fights A Robot!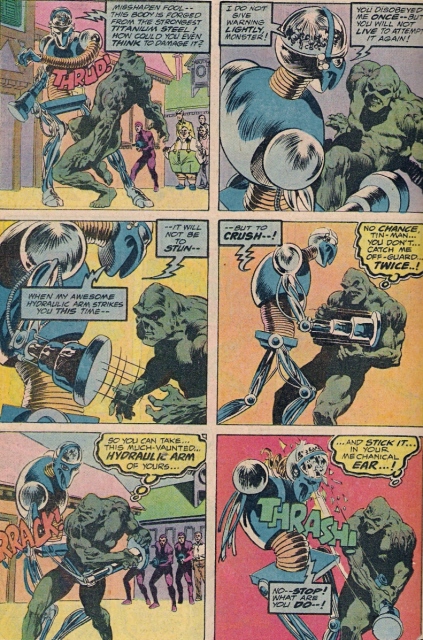 I thought Tolemite especially might get a kick out of this. If you love monsters and you love robots, you'll doubly love SWAMP THING #6, published by DC Comics in 1973. Swamp Thing falls off a cliff and finds himself in a believed-abandoned New England mining town that has been redecorated to resemble a 17th-century Swiss village. It turns out that a scientist who fled Switzerland when the Nazis invaded escaped to the U.S., where he built a town full of benevolent, human-looking androids for company. His peaceful existence ends tragically when The Conclave, a vast criminal organization, tracks Swamp Thing to the town and tries to kidnap the scientist to aid in its own robotics experiments. The old man refuses and is murdered by Conclave goons, who are led by a talking robot controlled from Gotham City by the organization's leader. Swamp Thing kicks the robot's ass, but not before the Conclave goons are murdered by the town's pissed-off androids, which are all destroyed in the process.

As written by Len Wein, drawn by the great Berni Wrightson, and edited by Joe Orlando, the creative team that created Swamp Thing a couple of years earlier in HOUSE OF SECRETS #92, this story, "The Clockwork Horror", is damned good, as were all of the Wein/Wrightson collaborations. I think Wrightson left the book after ten issues and Wein after eleven.

I don't believe SWAMP THING was ever a great seller, but it was excellent and attracted a lot of attention for its high quality. Sales dropped off after Wein and Wrightson left the book, and it was cancelled after #24. The character continued (and still does) to pop up in DC stories, including some oddball, but fun and well-illustrated, teamups with Deadman and the Challengers of the Unknown in the Challs' late-1970's title penned by Gerry Conway and penciled by a young Keith Giffen.

Posted by Marty at 12:28 AM CDT