You Can't Catch Me On The Grade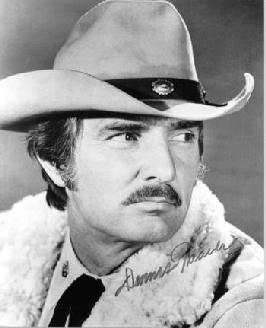 Goddammit. Would someone please stop killing all of our badass 80-year-old actors? Whoever took the quickenings of Don Knotts, Darren McGavin and Dennis Weaver is a helluva lot stronger...and cooler...tonight, that's for sure.
Dennis Weaver
died of cancer this weekend
at the age of 81. Weaver was one of my first "favorite actors". When I was a kid, he was starring in two of my favorite TV series: MCCLOUD and GENTLE BEN, which was then in morning syndication and a show I watched every morning before walking to school.
MCCLOUD is likely the show Weaver is best known for. Premiering on NBC in 1970. it was loosely based on the Clint Eastwood film COOGAN'S BLUFF and starred Weaver as Sam McCloud, a laconic detective from Taos, New Mexico and frustrates his high-strung boss (the late J.D. Cannon) with his unusual approach to fighting big-city crime. Originally part of the FOUR-IN-ONE umbrella series and then folded into the enormously successful NBC SUNDAY MYSTERY MOVIE (in which several different series, including COLUMBO, rotated in the same time slot), MCCLOUD lasted for seven seasons and was good fun, mixing action, mystery and light humor. The first season is out on DVD, so check it out if you're interested.
Weaver starred in, I believe, eight different TV series, including the early years of GUNSMOKE as lame deputy Chester, KENTUCKY JONES as a kindly veterinarian and the currently running WILDFIRE on ABC Family. I was a big fan of GENTLE BEN, in which Weaver played an Everglades park ranger with a son named Mark (Clint Howard) who had a pet bear named Ben. It has recently be remade with Dean Cain in the Weaver role, but I'd like to see the original '60s series in reruns.
Weaver also appeared in several movies, his most notable obviously being DUEL, which was Steven Spielberg's first film (made for television) and a thriller masterpiece that benefits from Spielberg's expert direction, Richard Matheson's taut teleplay, Billy Goldenberg's jangly score, and Weaver's marvelously tense performance. It takes a lot of effort for a TV leading man to portray a wimp, but Weaver was smart enough to check his ego at the door and turn in a strong performance in a monumental film. He sort of recycled the role in the later TERROR ON THE BEACH, in which Weaver and his family are stalked on their camping trip by teenage hooligans (THE PARTRIDGE FAMILY's Susan Dey plays his nubile daughter). If you'd like to remember Dennis Weaver this week, you might do so with DUEL (also on DVD), which also remains one of the best films of Spielberg's canon.
Posted by Marty at 10:51 PM CST