Attaboy, Luther!
Now Playing: THE GHOST AND MR. CHICKEN
I remembered this week that I have a personalized autograph signed by the late Don Knotts. It's on the inside cover of his autobiography.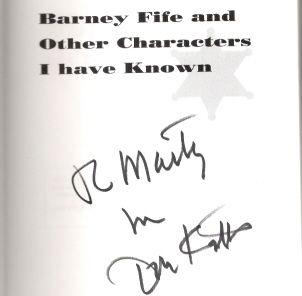 As cool as it is, I have to admit that I never met the man. My good friend Dave Crome acquired it for me several years back. He was covering a Kansas City Royals game for a KC TV station, and was riding up the elevator to the press box, when the lift stopped and two men got on: actors Norman Fell and Don Knotts. That's right--both THREE'S COMPANY landlords! They were in town doing a stage production of THE ODD COUPLE (I believe). Dave chatted with them, got tickets, saw the show, and later got the book and had Don sign it to me. A very cool gift and something I treasure. At least on the same level as the Deacon Jones autograph Chris Dowell got for me!

After five seasons and five Emmy Awards, Knotts left THE ANDY GRIFFITH SHOW in 1965 for a feature-film contract with Universal. He did a movie a year for the remainder of the 1960's, as well as several guest appearances as Barney Fife on the Griffith show and MAYBERRY R.F.D. He ended up getting back into television with the shortlived DON KNOTTS SHOW in 1970 and many more guest shots and Disney movies.

But THE GHOST AND MR. CHICKEN is, I think, Knotts' best film. Set in rural Rachel, Kansas, Don plays Luther Heggs, a meek, excitable typesetter at the local newspaper with dreams of being a reporter. He isn't taken seriously by his editor (Dick Sargent, later the Fake Darrin) or his reporter rival (Skip Homeier). That is, until he accepts a dare to spend the night in the creepy Simmons mansion, an abandoned old house rumored to be haunted since Old Man Simmons murdered his wife there 20 years previously and then committed suicide. That night, Luther encounters hidden staircases, a pipe organ that plays by itself, and a bloody portrait of the late Mrs. Simmons. His article in the newspaper wins him great notoriety; he even gets to speak at the Chamber of Commerce picnic and court Alma Parker (Joan Staley), apparently Rachel's only female under the age of 60.

THE GHOST AND MR. CHICKEN is Knotts at his wound-up best, a corucopia of fidgets and shakes, pushing his physical comedy skills to the brink. He was a unique comic talent, and just watching him in this movie, even when he isn't saying anything, is a delight. Knotts played it safe in his first film out of the box, bringing along ANDY GRIFFITH veterans Jim Fritzell and Everett Greenbaum to craft the very funny screenplay and Alan Rafkin, another GRIFFITH vet, to direct. However, the movie's secret weapon is the amazing jazz score by Vic Mizzy, whose jaunty main theme is later rearranged as the spooky organ tune Luther hears in the mansion. It's hard to get the tune out of your head once you've heard it.

Actually, for some of us, the 26-year-old Joan Staley may be a secret weapon. Blessed with the sweet look of a Girl Scout and the curves of a showgirl, the stacked Staley was a PLAYBOY Playmate at age 18, but exhibited a downhome sexiness that made you almost believe that you had a chance with her. Or that Don Knotts could have one.

As its nutty title indicates, THE GHOST AND MR. CHICKEN is one of the most quotable comedies of its era. From as far back as my initial viewings of it (usually as part of Don Knotts Week on the Channel 3 EARLY SHOW), I remember lines like, "Bang! Right on the head!", "Mister Boob. That's me. B-Double-O-B. Boob," "When you work with words, your words are your work," and especially, "Attaboy, Luther!" Almost everybody of a certain age, when you say, "Attaboy, Luther!", they know what you're talking about.

Attaboy, Don. Thanks for the memories.

Posted by Marty at 11:33 PM CST