A Man Barely Alive
Well, I'm hoping those Shatner-narrated clips of THE SIX MILLION DOLLAR MAN blew your mind. No question that Lee Majors as Steve Austin kicks huge amounts of ass. He even fought...


...George Foreman! Holy crap!

And below is more of the Seven Million Dollar Man, seen getting his ass smacked into a wall by Steve Austin in that video below and played by ubiquitous TV guest star Monte Markham: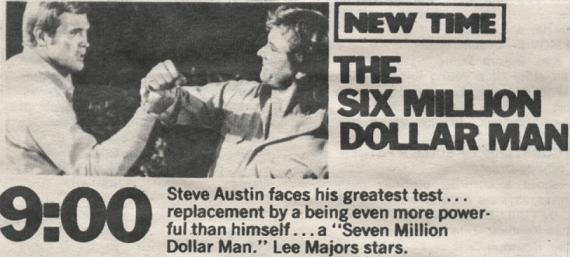 I remember what a big deal it was when Steve Austin was temporarily surpassed as the #1 bionic badass when Markham (playing a character named Barney Miller, of all things) get racked up in a racecar crash and is given $7 million worth of bionic limbs. Unfortunately, Barney turns evil, and it's up to Steve to stop him. Markham came back in a later episode, but I recall that as being more of a teamup with Austin, rather than a battle.


Markham, by the way, almost took over the leading role in HAWAII FIVE-0 during the 1970's. FIVE-0 was an enormous hit, the first successful network series to lens entirely in the state of Hawaii. The star, as Five-0 leader Steve McGarrett, was Jack Lord, who appears to have been one of the TV industry's major bastards. I've been a fan of the show since I was a kid, and rarely have I heard a good word about him. Lord was apparently an ill-tempered egomaniac who barely got along with anyone besides his wife and FIVE-0 executive producer Leonard Freeman. When Freeman died, Lord became the de facto executive producer, and reportedly ran roughshod over everyone, including CBS. If you watch enough FIVE-0 episodes, you'll notice a helluva lot of different producers in the credits. That's because Lord either fired them, or they quit in frustration.

At any rate, CBS almost fired Lord during the 7th season when the actor pitched a hissy fit over a producer bringing a guest onto FIVE-0's closed set. Perhaps Lord was in the right this time, but CBS was getting tired of his bullshit, and went so far as to hire Markham to play a new character named Kincaid who would eventually take over the Five-0 unit. The situation worked itself out, and Markham never appeared as Kincaid, although he did guest-star at least once.

Apropos of nothing, "State of Shock" by Michael Jackson and Mick Jagger just popped up on iTunes. If a shittier song exists anywhere, I'm scared to hear it.

Posted by Marty at 11:39 PM CDT