Happy Birthday, Roger Corman
A man whom I firmly believe to be one of the great American filmmakers turns 80 today. Roger Corman was born April 5, 1926 in Detroit, Michigan, and in his honor, Tim Lucas at the essential
Video WatchBlog
site (Tim edits VIDEO WATCHDOG, the preeminent publication dedicated to fantastic and cult cinema) has proclaimed a Roger Corman Blog-A-Thon, meaning several Corman fans will be posting tributes to the legendary director/producer/studio executive today.
Coming up with something to write about Corman that has neither been written about 100 times before nor will be tackled again by other bloggers is a tough chore. However, I'll tackle one of Corman's most important pictures, a film that he claims is the only one he ever directed that lost money.
Corman has said publicly on several occasions that THE INTRUDER is his favorite of the 51 films he directed between 1955 and 1971 (his last was FRANKENSTEIN UNBOUND in 1990--nearly 20 years after his previous movie). It's also a unique entry in the Corman oeuvre, a searing, powerful drama that tackles the serious issue of race relations in the Deep South at the peak of the civil rights movement. Up to that point, Corman's films were strictly for exploitation, genre pics with titles like TEENAGE CAVEMAN, ATTACK OF THE CRAB MONSTERS and SHE GODS OF SHARK REEF. He was about the last guy one would expect to make a movie like THE INTRUDER.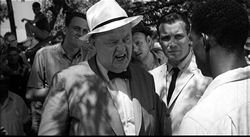 Corman directed and produced the film, and his brother Gene Corman was the executive producer. He filmed it in several small towns in Missouri, where the story goes that the script that was shown to the local citizens was changed somewhat to make the movie's racist villain look like the hero, so the filmmakers wouldn't be lynched while scouting locations. It has also been said that the reason THE INTRUDER was filmed in so many locations, including Sikeston, Charleston and East Prairie, Missouri, is because once the locals discovered the movie was anti-prejudice, they really did chase Corman and his company out of town. Some shots were made on the fly by leaping out of a car, setting up a camera, grabbing a few frames, and splitting before anybody saw them.
The result was a box-office flop when Pathe-America released the independent feature in 1962. Years later, Corman re-released it under the alternate titles SHAME and I HATE YOUR GUTS in an attempt to fool people into thinking it was a cheap exploitation movie, but his ruse was unsuccessful. It was clear once audiences saw the film that it was more than just cheap entertainment.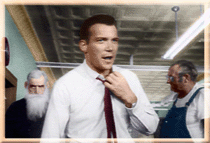 THE INTRUDER stars William Shatner as a racist rabblerouser named Adam Cramer. Those who accuse Shatner of being a "bad actor" should have their mouths washed out with soap and see THE INTRUDER. Shatner had done few features up to that point, but was a very popular guest star on episodic and anthology TV series and was also an acclaimed stage actor. I would imagine it was considered something of a coup for Corman to have landed such a star.
Shatner is riveting in the film, and you can't take your eyes off of him, as his sly bigot visits a small Missouri town at the time of desegregation, and convinces the bigoted white townspeople to harass the black high school students. When the brave teenagers break the school district's color barrier anyway--as the new federal laws mandated they do--Cramer forces the daughter of a prominent white citizen to falsely accuse a black student of rape.
What few critics screened it at the time had praise for THE INTRUDER. Even the notoriously grouchy Bosley Crowther of the New York Times
blessed it
as a raggedy, raw film of unflinching power. Very few audiences saw it, though, and it appears to have done little (good or bad) for the careers of Corman and Shatner. It clearly was an important experience for the men, who reunited in 2000 to film a joint on-camera interview for a Special Edition DVD release of THE INTRUDER, which Corman put out through his Concorde/New Horizons label.
THE INTRUDER is a fascinating anomaly in Roger Corman's career. It stands alone among the hundreds of films in which he has participated as a director, producer, executive producer and studio exec (Corman owned New World Pictures from approximately 1970 to 1985 and then started Concorde/New Horizons shortly after that). Corman has made films in nearly every genre you can imagine--science fiction, horror, sword-and-sorcery, childrens, women-in-prison, car chase, comedy, erotic thrillers, martial arts, slasher flicks, gangster, killer robots, you name it. Yet only THE INTRUDER completely eschews exploitation elements to tell a real, adult story that pushes buttons in its pursuit of hard-hitting social commentary. It isn't a perfect film by any means. Since Corman used local non-actors in supporting roles, some of the performances are very stiff. The ending is an unsatisfactory
deus ex machina
. Corman's guerrilla filmmaking style (necessary, considering the personal danger he and his crew were in) results in somewhat craggy production values. I don't think any of that matters. THE INTRUDER is a good story--and a socially important one--well told, and a story that remains as relevant today (as the Katrina tragedy demonstrates) as it was in 1962.
Happy birthday, Roger. Thank you for giving us DEATHSPORT and NIGHT CALL NURSES and BEAST OF THE YELLOW NIGHT and THE PREMATURE BURIAL and ROCK ALL NIGHT and SORORITY GIRL and DEATH RACE 2000 and not one, not two, not three, but four movies featuring hot women who fight karate with no top on. But especially thank you for THE INTRUDER.
Posted by Marty at 12:04 AM CDT