We Call Him Sasquatch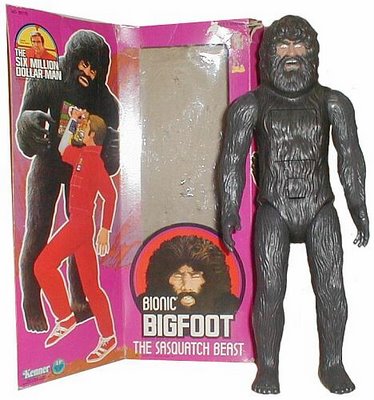 Seeing this reminded me of the "dolls" that my brother and I used to have when we were kids. And, yeah, they were called dolls then; there was no such thing as an "action figure," as far as I remember.
Actually, I don't think we had the Bigfoot doll or the Oscar Goldman, but we did have the Six Million Dollar Man. You could roll up the skin on his arm and check out the bionics, and you could peer through the back of his head and through one of his bionic eyes.
THE SIX MILLION DOLLAR MAN was one of my favorite shows beginning when I was about eight or so, but unlike other favorite shows from that period, I can still watch it without cringing. I recorded the entire run on the Sci-Fi Channel 8 or 9 years ago, and it still holds up, I think. As many adventure shows were back then, it was designed to appeal to both adults and children, at least at the beginning. Unlike today's network television, which is pretty much tailored for viewers aged 18 to 30. I can't think of anything on the air today that would have interested me at age 9, other than maybe 24, which is too complicated and violent for 9-year-olds.
One of the most important nights of my childhood was the episode in which Steve Austin (Lee Majors), the former astronaut with $6 million of taxpayer dough inside of him in the form of bionic parts that ratchet up his strength, speed and vision, threw down with none other than Bigfoot. Yep, the legendary forest-dwelling apeman was alive and well in the backwoods of California, discovered by Colonel Austin while investigating some missing scientists. You need to remember that the Bigfoot legend was very much in the public mind when this two-part episode, "The Secret of Bigfoot," was telecast in 1976. And, wow, there was nothing more thrilling than when the two powerful rivals went at it, jumping down hills, ripping trees out of the ground and using them as rams, throwing powerful punches. All, of course, in slow motion and aided by those classic "bionic" sound effects (NA-NA-NA-NA-NA) and Oliver Nelson's music.
Oh, and it gets better. Bigfoot isn't just Bigfoot. He's a
robot
. From
outer space
. How kickass is that? Yep, Bigfoot, which his alien masters call Sasquatch, was built as a servant and protector by a group of basically benevolent aliens whose experiments are endangering the lives of Earthlings. Luckily for Steve, one of them is the foxy Shalon (Stefanie Powers), and she really digs him.
I showed this two-parter to some younger friends of mine who grew up on MACGYVER and TRANSFORMERS, and it still haunts me that none of them was the least bit entertained by it. I count that night as a majestic Crappy Movie Night failure, and it still perplexes me. What is it about a bionic man and a robot alien Bigfoot fighting each other in a majestic California forest that they didn't like? I don't think I'll ever get over that. I mean, there's a lot of dumb stuff that I like that I completely understand why nobody else likes. But Steve Austin vs. Sasquatch? That's fucking cool, dude.
Why isn't THE SIX MILLION DOLLAR MAN (or its spinoff, THE BIONIC WOMAN) on DVD yet? Beats me. Universal has been very aggressive in releasing its '70s TV shows, including COLUMBO, DRAGNET, ADAM-12, THE ROCKFORD FILES, EMERGENCY, MCCLOUD and more. I believe that THE SIX MILLION DOLLAR MAN would sell better than most of those shows, besides ROCKFORD and COLUMBO, so I can't imagine what the holdup is. I've been meaning to go through those old videotapes of mine and dub them to DVD-R, but I've only managed a couple so far. Obviously, those Sci-Fi versions are cut, time-compressed and/or feature shrunken credits, so they aren't optimal viewing. But I guess it's all I have for now.
Posted by Marty at 10:30 PM CDT