Walk Tall And Carry A Big Stick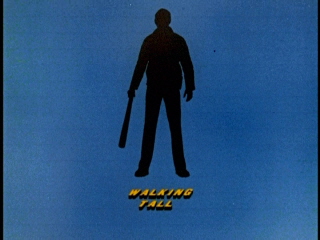 The cinematic saga of Buford Pusser began in the winter of 1973, when the now-defunct Cinerama Releasing Corporation released WALKING TALL, a crude, simplistic, violent R-rated drama about an ex-Marine and pro wrestler who returned to the Tennessee county of his childhood and single-handedly wiped out organized crime. Joe Don Baker played Pusser, who was elected sheriff of McNairy County after a severe beating by hoodlums left him scarred and near death. WALKING TALL struck a major chord with rural audiences, who turned it into one of the year's most talked-about and financially successful films. Pusser planned to portray himself in the 1975 sequel, but he was killed in a mysterious auto accident, and 6'6" Bo Svenson was enlisted to play the lawman who "walks tall and carries a big stick" in two movies and a short-lived NBC television series.

WALKING TALL, the series, premiered the same month that Ronald Reagan was inaugurated as the 40th U.S. President, which may have been too soon. The Reagan administration's black-and-white views on law and order were an influence on dozens of violent, high-octane Hollywood action movies, many of them starring macho men like Arnold Schwarzenegger, Sylvester Stallone and Chuck Norris. But when NBC debuted WALKING TALL on January 17, 1981, audiences were still in the sensitive grip of the Carter era and perhaps weren't quite prepared for a single-minded law enforcer who eschewed the civil rights of the accused if they stood in the way of what he considered to be justice.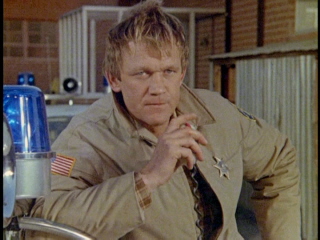 Svenson, a familiar face to TV audiences from schlocky TV-movies like GOLD OF THE AMAZON WOMEN and SNOWBEAST, probably felt right at home with Sheriff Buford Pusser's badge and "pacifier" (his term for the hefty four-foot club he carried in the back seat of his police car) in hand again. The show's premise was just like that of the WALKING TALL movies in which Svenson had starred. He again was a widower who lived in McNeal (changed from McNairy) County, Tennessee with his father Carl (Walter Barnes, taking over for Noah Beery and Forrest Tucker), son Michael and daughter Dwana. McNeal was a small rural community where everybody knew everybody else, which didn't make it as difficult as you would think for some of its citizens to get into trouble with the law and run afoul of Buford's temper.

NBC scheduled WALKING TALL for 8:00pm Central on Saturday nights. Its CBS rival, the shortlived FREEBIE AND THE BEAN (also an action-oriented spinoff of a successful film), was no competition, but both series were slammed in the ratings by THE LOVE BOAT, which formed a Saturday-night juggernaut with FANTASY ISLAND for several years on ABC. After five episodes, the show was pulled, only to reappear six weeks later at 9:00pm on Tuesdays, where another smash ABC series, HART TO HART, buried it, this time for good. Only seven episodes of WALKING TALL were made, and all of them are available on DVD from Columbia/Tri-Star. Because I believe that no TV series should be forgotten, what follows is a somewhat comprehensive WALKING TALL episode guide. Print it out and keep it next to your remote.

1) "The Killing of McNeal County's Children"--Directed by Alf Kjellin. Written by Stephen Downing. Stars Robert Englund, Charles McDaniel, Eric Stoltz, Whit Bissell. Pusser investigates when two teenagers become brain-damaged after a few puffs of some powerful new PCP cigarettes. He threatens pusher Bobby Joe Wilson (Englund, later Freddy Krueger in A NIGHTMARE ON ELM STREET) and is nearly killed when Wilson's home lab explodes, but still fails to stop the ring led by oily businessman Oliver Moss (McDaniel). Even Buford's environmentally dubious strategy of assaulting Moss' trucks and dumping their chemical contents onto the highway makes little dent in the drug's onslaught of the local high school. It gets personal after two classmates (one is played by future star Stoltz) drug Michael Pusser's drink with angel dust, which leaves him perched on the school roof thinking he can fly.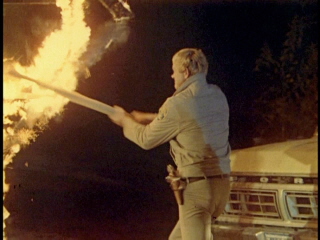 2) "The Protectors of the People"--Directed by Daniel Haller. Written by Donald R. Boyle. Stars Charles Napier, Jesse Vint, William Windom, William Sanderson, Otis Young, Dey Young. One of WALKING TALL's advantages is its weekly guest stars. Even if an episode doesn't happen to be working too well, there's always an interesting actor or two to keep an eye on. This episode may have the show's best cast, and Boyle (the show's executive story editor) gives them an incendiary topic to bite into. McNeal runs afoul of the Ku Klux Klan, mainly in the personage of vile Napier (the great character actor with the toothy grin), sadistic Sanderson (NEWHART) and store owner Vint (FORBIDDEN WORLD). In their repulsive desperation to make the county all-white, they attack a white teenage girl while disguised in blackface and then blow up a store owned by black businessman Otis Young (THE LAST DETAIL). It all gets terribly out of control when Pusser's black deputy Aaron (Harold Sylvester) is framed for raping a white woman.

3) "Kidnapped"--Directed by John Florea. Written by Paul Savage. Stars Chuck Connors, Edward Albert. This episode could have been written for almost any other TV cop show. Its routine plot by GUNSMOKE veteran Savage has been done many times. Theo Brewster (Connors in a "special cameo appearance") is shot by a guard during his commission of a bank robbery and taken into custody to Pusser's jail, where he lies on life support. His sons--also his fellow bank robbers--plot to break him out by taking a local family and Buford's father hostage.

4) "Hitman"--Directed by Alf Kjellin. Written by Robert E. Swanson. Stars Merlin Olsen, L.Q. Jones. Also not a terribly original concept, but strong direction, particularly during the final act, and good performances make the episode worthwhile. NBC sportscaster and former Los Angeles Ram Olsen, just a few months before starring in his own NBC drama, FATHER MURPHY, is Webb McClain, an old friend of Buford's who returns to McNeal County to renew their relationship. Unbeknownst to Pusser, however, McClain is an assassin who has been hired by mobster Jones to murder Buford. Svenson and Olsen play the tension perfectly, giving the incredulous idea necessary weight.

5) "Company Town"--Directed by Harvey S. Laidman. Written by Lee Sheldon. Stars Ralph Bellamy, Lane Bradbury, Art Hindle, Claude Earl Jones. Leaving his regular supporting players behind, Pusser travels to a mining town to investigate the disappearance of a miner who had been riling his employers with talk about low wages and unsafe working conditions. Learning of other missing mining workers with similar rabblerousing backgrounds, Buford follows the trail of bodies all the way up to the mine's owner, James Clausen (Bellamy), and his hot-headed son Stuart (Hindle).

6) "Deadly Impact"--Directed by Alexander Singer. Written by Gregory S. Dinallo. Stars Gail Strickland, Ken Swofford, Richard Herd, James Whitmore Jr. Credit director Singer and guest star Strickland for pulling off a late-in-the-game story twist that provides this episode with an effective dramatic punch. It smells like SILKWOOD when chemical plant employee Strickland suspects her boss of authorizing illegal dumps of toxic wastes into the nearby river. After she's nearly run off the road, Pusser protects her from further attempts on her life by putting her up with Carl and the kids at his house, where his relationship with her turns from professional to personal.

7) "The Fire Within"--Directed by Phil Bondelli. Written by Lee Sheldon. Stars James MacArthur, Ed Nelson, Lance LeGault, Anthony Edwards, John McLiam, Richard Venture. MacArthur, a veteran of eleven seasons on HAWAII FIVE-0, exchanges his badge for a collar in this "special guest star" role as Father Adair, a new priest who takes the confession of a dying criminal. His vows prevent him from telling Pusser any information about what the man was involved with, namely a gunrunning operation masterminded by McNeal County real-estate agent Ed Campbell (Nelson). Look for future ER star Edwards as a horny teenager.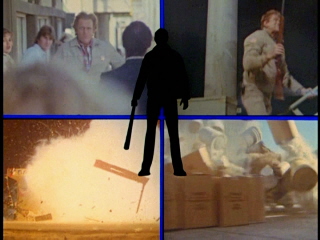 After WALKING TALL's quick cancellation, star Svenson continued to rack up an army of television and film credits. Many of them were in exploitation movies such as NIGHT WARNING (in which he played a homophobic cop) and the Italian THUNDER WARRIOR (he also reunited with Charles Napier in the Fred Olen Ray ALIEN-ripoff DEEP SPACE), but his best TV performance of the era was a memorable turn in MAGNUM, P.I.'s third-season premiere as Ivan, a KGB agent who had tortured Thomas Magnum (Tom Selleck) in Vietnam and murdered Magnum's friend Mac in Hawaii. The final confrontation between Magnum and Ivan was quite a corker and is probably the series' finest moment. Svenson continues to be a popular supporting actor in low-budget movies and was tapped by Quentin Tarantino to portray a reverend in KILL BILL.

Brian Dennehy also played Buford Pusser in A REAL AMERICAN HERO, a CBS movie that aired in 1978, and The Rock starred in a 2004 WALKING TALL remake that had nearly nothing to do with the original films or the Buford Pusser legend. The seven one-hour television episodes on DVD are nothing like TV crime drama at its finest, but its realistic location shooting (all in Southern California, it appears), fine actors, sharp action scenes, and committed, passionate lead performance by Bo Svenson, who could usually be counted on for one deeply felt monologue per show, make it an appealing curiosity for cop-show fans.


Posted by Marty at 11:48 PM CDT