Whatever Happened To..?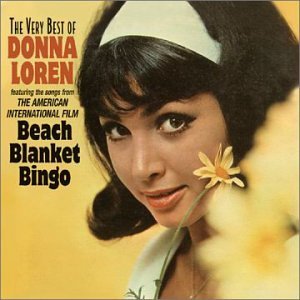 I was listening to a few cuts from this Donna Loren compilation album recently, which got me thinking about why she never became a big star. Donna was a child star of sorts, acting and singing on television while still in grade school. As she grew into a teenager, she signed a recording contract with Capitol and began appearing in small roles in the BEACH PARTY movies cranked out in the 1960's by executive producers Samuel Arkoff and James Nicholson and director William Asher at American International Pictures. Most of the time, Frankie Avalon and Annette Funicello played the leading roles, but Donna, along with several other cuties, could be seen in the background and occasionally got a song of her one to perform. She also did a series of Dr. Pepper commercials, so someone was definitely grooming her for stardom.
What's evident from seeing her on-screen and listening to her music is that she was a very good performer (and cute as a button). I suppose it's hard to judge her acting from the small roles I've seen, including a guest spot as a sheik's daughter infatuated with Davy Jones on THE MONKEES, but she absolutely was a terrific singer. It may not be immediately obvious from titles like "Muscle Bustle" and "Beach Blanket Bingo," but she had a wonderful voice, and she was still just a teenager when she recorded them. I particularly like "It Only Hurts When I Cry," which she performed in the 1965 film BEACH BLANKET BINGO. Not to slight Annette Funicello, who also had a career headstart working for Walt Disney for many years before, but it's clear from watching the film that Loren had star presence that Annette, I don't think, ever did (maybe boys will be boys, but I believe Annette's notoriously prominent bustline had a lot to do with her success).
After a few more TV guest shots and a busted pilot with Aaron Spelling at ABC, Donna Loren retired from show business to get married. Not an unusual move for a budding ingenue, but she was only 21 years old, and it's a pity to think about the wonderful work she didn't allow herself to give to us. Maybe if her stardom had risen more quickly, she would have thought differently about giving it all up. At any rate, if you find yourself coming across BINGO or BIKINI BEACH or PAJAMA PARTY on cable or on DVD, Donna had solo spots in all of them, so stick with them long enough to catch her number. I think you'll be happy you did.
On a slightly related note, here's what I've been listening to on iTunes:
"Danger Man Theme"--The Red Price Combo
"Let Love Come Between Us"--James and Bobby Purify
"Batusi A Go Go"--Nelson Riddle
"Lonely Is the Summer"--The Debonairs
DAY OF THE ANIMALS radio spot
"Out of Tears"--Rolling Stones from VOODOO LOUNGE
"Gramaphone Man"--Spirit
"My Little Surfin' Woodie"--The Sunsets
"She's My Witch"--Kip Tyler
"Grand Ennui"--Michael Nesmith
Main Titles from DESERT OF FIRE--Franco Bixio
"The Throne Room/End Title"--John Williams from STAR WARS
"Songbird"--Fleetwood Mac
JUDD, FOR THE DEFENSE Theme--Alexander Courage
"Karma Sitar"--101 Strings
"Rockin' in the Free World"--Neil Young
"5D (Fifth Dimension)"--The Byrds
"Asshole"--Denis Leary from NO CURE FOR CANCER
Posted by Marty at 11:05 PM CDT