Anything Else I Can Do For You...Charles?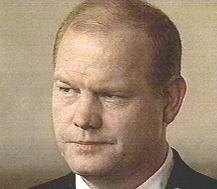 In the annals of great Fuck Yeah moments in 24 history, near the top will be in last night's episode where stalwart Secret Service agent Aaron Pierce told the evil President to go fuck himself. Er, at least in language Fox censors would allow.
Pierce, who was a steady member of the 24 crew going all the way back to Day 1 as the right-hand agent to David Palmer (Dennis Haysbert), has slowly and steadily turned into one of the series' most beloved characters. Writer David Fury revealed recently that Pierce was scheduled to die this season, but cooler heads at Fox prevailed, and I think it's a good thing. Until this season, Pierce was mainly seen in the background or doing day-player stuff, but this year he's become a pudgy red-headed action hero, and it's been a really cool thing for 24. After five seasons, last night was the character's best showcase and it was well worth waiting for.
Pierce is played by Glenn Morshower, a character actor who's been around since the '70s, one of those guys you see and say, "Yeah, that guy, geez, he's been around," even though you can't remember right away where you saw him. Horror fans might remember a really young Morshower as a teenage zombie in 1981's DEAD & BURIED. I once saw his film debut, a drive-in flick called, er, DRIVE-IN, which was filmed in Morshower's native Texas. I remember first seeing him (even though I know I've seen other things he was in before this) in ABC's short-lived Saturday-night series C-16, which starred Eric Roberts (!) as the head of a special FBI task force. Morshower played the prick boss in the same tight-lipped, high-strung mode in which he plays everything. Morshower doesn't appear to be an actor of great range, but when it comes to playing stalwart, by-the-book authority figures, he has few equals.
Something about the PRISON BREAK finale that surprised me was the off-camera death of the U.S. President (he appears to have been murdered by corrupt Secret Service agents under orders from Vice President Patricia Wettig). The President was seen in only one episode, in one scene, and he was played by the great Daniel J. Travanti (HILL STREET BLUES). I was under the impression from a recent Travanti interview that he was going to do more episodes, and I'm surprised that the producers would go to the trouble and expense to hire a name like Travanti just to do one little scene. I'm glad they did--it shows they care--but I would think Fox probably urged them to find a local Chicago actor instead.
So is Waterston leaving LAW & ORDER?
Posted by Marty at 11:27 PM CDT
Updated: Tuesday, May 16, 2006 11:30 PM CDT