Does Your Mother Know What You Do For A Living?
Now Playing: THE ROCKFORD FILES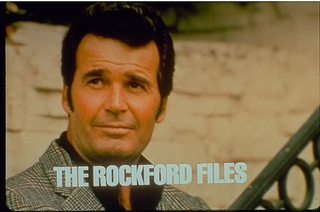 I started the THE ROCKFORD FILES: SEASON ONE DVD box set tonight with "The Kirkoff Case," which was the first regular episode telecast after NBC aired the 90-minute pilot as a TV-movie several months earlier. For anyone who has never seen THE ROCKFORD FILES, "The Kirkoff Case" is a very good "starter" episode. It offers an intricate plot and plenty of writer Stephen J. Cannell's trademark dialogue (one character is the deliciously named "Muzzy Vinette"), an exciting climactic car chase (star James Garner often did much of the show's stunt driving), an early guest role for future movie star James Woods and plenty of humor. Best of all, Cannell and director Lou Antonio (who kept his dolly guys plenty busy) do an excellent job of establishing the main character, Jim Rockford (Garner), as an unconventional (for television) anti-hero, a guy who would rather talk than fight and a private detective who wasn't particularly great at his job.


This is perhaps best illustrated in a scene where Rockford has been kidnapped by a bunch of goons and taken to a deserted warehouse, where his abductors rough him up. Of course, in most private-eye shows, the hero is able to endure great physical pain and still keep his trap shut, but not Rockford. When his attackers start asking questions, Rockford speaks right up. Hey, it's better and easier (and less painful) than taking another punch to the gut, right? Rockford is no pussy--he can take a shot--but he's perhaps the most realistic action hero network television has ever seen. He hits someone in the jaw, and his hand hurts more than the guy's noggin. He doesn't charge very much, 'cause he can't really afford to, and half the time, his clients stiff him anyway. But we surely do love the guy. He's a great driver, a fast talker, a regular Joe just trying to pick up enough bread to take a few days off and go fishing with his dad (Noah Beery).

"The Kirkoff Case" finds Rockford working for a rich jackass named Larry Kirkoff (Woods), who was indicted for the murder of his parents, but not prosecuted. Rockford doesn't think much of him, but can't resist the smell of the $20,000 Kirkoff offers to find the real killer. His nose leads him to a glib golddigger named Tawnia Baker (Julie Sommars, known then for a sitcom called THE GOVERNOR & J.J…she played J.J.) and a muscleheaded brute named Travis (Roger Davis of ALIAS SMITH & JONES), who turn the tables on Rockford by slipping him a mickey and de-pantsing him. Not ten minutes into the show, and already the hero is being played for a sucker.

Cannell's plot (which was originally planned, but not used, for TOMA) involves a real estate scam and labor organizers, but, as usual for ROCKFORD, the actual story plays second fiddle to the distinctive dialogue and the characters. This episode has the Cannell touch, particularly Sommers' character, as "Tawnia Baker" was also the name of a regular character on his THE A-TEAM and was (likely) named after his daughter Tawnia, who now directs TV shows like LAS VEGAS and BONES.

Woods and Garner eventually became quite friendly and co-starred in two highly acclaimed TV-movies in the 1980's: PROMISES and MY NAME IS BILL W. Woods won Emmy awards as Outstanding Lead Actor for both of them. Garner was nominated twice in the same category, but won one as executive producer of PROMISES, which was named Outstanding Drama/Comedy Special. Garner has been nominated for 15 Emmys during his career, and has surprisingly won only twice; his first was in 1977 as Outstanding Lead Actor in a Drama Series: THE ROCKFORD FILES, of course.


Posted by Marty at 11:00 PM CDT