Rest Well, Little Buddy
Now Playing: THE HAUNTING OF MORELLA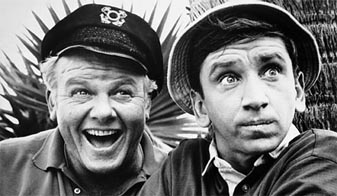 Bob Denver passed away this week at the age of 70. He had been in poor health for awhile. He underwent quadruple heart bypass surgery earlier this year, and finally succumbed to cancer near his West Virginia home with his wife and children by his side.
Denver was, as we know, the star of GILLIGAN'S ISLAND, and was likely the first celebrity that I was a fan of. When I was a little kid growing up in the 1970's, I was a huge fan of GILLIGAN'S ISLAND. In fact, it was my favorite TV series. This is when I was between, say, five and nine years old. I used to watch the reruns every afternoon on WICD Channel 15 after school. They rotated somewhat, but usually in there someplace were GILLIGAN, THE BRADY BUNCH and THE PARTRIDGE FAMILY. I remember others in there too--I LOVE LUCY, THE DICK VAN DYKE SHOW, MISSION: IMPOSSIBLE, BEWITCHED, THE ODD COUPLE, I DREAM OF JEANNIE--and later MCHALE'S NAVY, THE ADVENTURES OF SUPERMAN and BATMAN were added to the lineup, but GILLIGAN was almost always on. It rarely was unavailable to after-school TV watchers during the 1970's, which were the days before tabloid talk shows and infomercials took over the airwaves. I sometimes watched THE EARLY SHOW over on WCIA Channel 3, which had a massive library of movies. In fact, THE EARLY SHOW and the weekend LATE SHOW were as much an influence on my current love of film than anything else.
On a tangent here: I also was a big fan of GENTLE BEN, which ran every morning before school, I think on Channel 3. I remember seeing GENTLE BEN, the Abbott and Costello cartoon, TENNESSEE TUXEDO, UNDERDOG, BULLWINKLE, stuff like that. On the days when Bob Denver wasn't my favorite actor, Dennis Weaver was. Weaver was a forest ranger on GENTLE BEN who had a wife (Beth Brickell), a son (Clint Howard) and a pet bear named Ben. The Animal Planet actually remade GENTLE BEN recently with Dean Cain in the Weaver role. I really liked the show when I was a kid, and liked Weaver also because he was starring in new episodes of MCCLOUD on Sunday nights.
But back to GILLIGAN'S ISLAND. I was such a fan that I remember "writing" a play version of the series and putting it on in the playground during recess. I also remember the series actually holding me in suspense--would today be the day that the castaways finally get off the island? I actually believed that, eventually, Gilligan would not fuck up, and everyone would be rescued. They did get off the island once, but only to another island where a mad scientist switched everybody's brains around. Don't you miss plots like that in sitcoms? Now everyone sits around the living room and complains that they can't get laid. Wouldn't you love to just once see Ray Romano deal with a jungle boy or witness Kevin James fighting a giant spider or find out how Charlie Sheen deals with being captured by a Japanese soldier who thinks World War II is still going on?
I also remember taping episodes on my cassette recorder and listening to them over and over again. The shows were just as funny, but more importantly, I think I learned a lot about comedy and TV production by listening to them. I certainly became very familiar with the mid-'60s laugh track and started recognizing it in other shows like I DREAM OF JEANNIE.
Denver starred in another series I watched as a kid: a Saturday-morning live-action show called FAR OUT SPACE NUTS. It was basically GILLIGAN'S ISLAND IN SPACE with Denver playing another lovable klutz and Chuck McCann doing the slow-burning Skipper part. Since Alan Hale, Jr. basically played the Skipper as Oliver Hardy, and McCann had done a famous Hardy impression in commercials, FAR OUT SPACE NUTS was a perfect vehicle for the kind of comedy that Denver and Hale did on GILLIGAN. I think it ran for only a season, but was pretty fun to this kid's eyes.
FAR OUT SPACE NUTS wasn't Denver's only turn on Saturday mornings. There was also an animated GILLIGAN spinoff called THE NEW ADVENTURES OF GILLIGAN (my brother and I played the board game) and a later SF spinoff called GILLIGAN'S PLANET. You can guess what the premise was.
Denver's other famous TV role was one I didn't see until I was in college. That was Maynard G. Krebs, the ahead-of-his-time beatnik best friend of Dwayne Hickman's title character on THE MANY LOVES OF DOBIE GILLIS. DOBIE was a Nick at Nite standby for a long time, and I wish it was still airing instead of same-ol'-same-ol' stuff like FAMILY TIES and THE COSBY SHOW. DOBIE had really good writing, a funny cast and was about as close to real teenagers as TV sitcoms got during the Eisenhower/Kennedy years. It wasn't until THE MONKEES that we really got "real" teenagers, but DOBIE was pretty close.
This has nothing to do with TV, but I went to the post office today after work to pick up a package that was waiting for me. I parked in the small lot on the south side of the Neil Street facility; there's only room for six or seven cars there. As I was walking around the edge of the building, I looked down, and there was a shot glass setting on the curb. It was empty and looked clean. I have no idea how it got there, but it sure looked odd there.
Posted by Marty at 10:26 PM CDT