May The Source Be With You
Now Playing: QUARK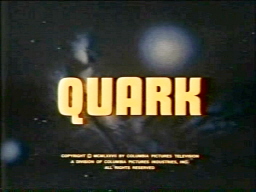 Here's a show you may not have heard of. No one does it anymore, but it used to be that the major television networks used the summer season to burn off their busted pilots. These were shows that the networks had paid for, but decided not to turn into a series. So, among a sea of reruns, movies, specials and MONDAY NIGHT BASEBALL on ABC, it wouldn't be that unusual to see one episode of a show that you would never see again. Since these were pilots the networks chose not to buy, it isn't surprising that most of them weren't very good, but every once in awhile, you'd see something not quite like anything else on the schedule.

On May 7, 1977, NBC filled a half-hour with a pilot called QUARK. It was a situation comedy shot with a single camera, unusual since most sitcoms of the era, like HAPPY DAYS and ALL IN THE FAMILY, were filmed with three cameras before a live studio audience. I don't know what the ratings were for QUARK that night, but it undoubtedly wouldn't have mattered to NBC anyway. They were just burning off inventory in a dead 30-minute time slot.

Eighteen days later, STAR WARS opened theatrically across the United States, and Hollywood would forever be changed. And among the more insignificant changes was QUARK's status of busted pilot to regular series.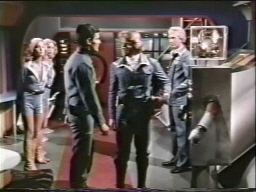 There can be little doubt that QUARK never would have become a series if not for STAR WARS' unprecedented box-office success. Science fiction had long been regarded as a dead genre; there had been few successful SF film or television projects in many years, as hard as it may be to believe today. But after the summer of '77, sci-fi was everywhere--major studio blockbusters, low-budget independents, even TV shows. BATTLESTAR GALACTICA, which debuted on ABC in the fall of 1978, was the most obvious TV benefactor of STAR WARS' success, but QUARK got there first.

STAR TREK meets GET SMART is a good way to describe QUARK. The pilot, as written by noted humorist Buck Henry (who also co-created GET SMART with Mel Brooks) and directed by 1776 helmer Peter H. Hunt, cast Richard Benjamin, a talented comic actor (THE SUNSHINE BOYS) whose previous TV experience had been with his wife Paula Prentiss in the critically acclaimed but low-rated sitcom HE & SHE (1967-68), as Adam Quark, the commander of a small spaceship belonging to the United Galactic Sanitation Patrol. Yep, a garbage scow. Among his crew were Gene/Jean, a "transmute" with both male and female chromosomes, portrayed by up-and-coming comic Tim Thomerson (now a very familiar face to fans of exploitation movies); Betty and Betty (Cyb and Tricia Barnstable), a pair of sexy engineers, one of whom was a clone, although neither would cop to it; and Andy (Bobby Porter), a clunky-looking, cowardly robot that would turn on the crew in a second in order to save his metal hide. When QUARK returned to NBC as a weekly series in February 1978, there was a new crew member: Ficus, the "Spock" of the cast, an unemotional plant prone to pontification and long-winded explanations. The crew received its garbage pickup assignments from Quark's boss, Otto Palindrome (heh), played by Conrad Janis, and his boss, a giant floating cranium known only as The Head (Alan Caillou).


The pilot that aired in 1977 really isn't very good. It's less spoofy and less manic than the series that followed, despite its Buck Henry teleplay. Henry appears to have not been involved in the series, which received much acclaim from critics who adored its mixture of slapstick and wit, but few viewers in its Friday night timeslot just before C.P.O. SHARKEY, a mildly successful sitcom starring Don Rickles as a Chief Petty Officer in the U.S. Navy. The writing staff obviously boned up on STAR TREK reruns, drawing many of their plots from that '60s series. In "The Old and the Beautiful", Quark is stricken with a disease that prematurely ages him, much as the U.S.S. Enterprise crew did in the TREK episode "The Deadly Years". TREK's "Shore Leave" inspired "Goodbye, Palombus" (a spoof of Benjamin's movie GOODBYE, COLUMBUS), where Quark and his crew investigate a paradise planet where whatever you wish for comes true.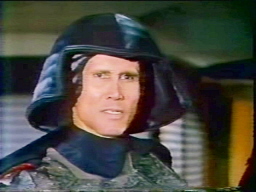 The best episode is the first shot and aired after the pilot, "May the Source Be With You". It ran one hour and managed to pack a bit of adventure into its comedy package. The universe is threatened by an evil race known as the Gorgon, and only Quark and his intergalactic garbagemen can stop them. Quark's secret weapon is "The Source", an omnipotent force with the voice of Hans Conried that imbues him with mysterious powers. The problem is that the Source only works if Quark fully believes in it, but the Source's absentmindedness and bumbling doesn't inspire a lot of confidence. The Head Gorgon was portrayed by the great Henry Silva, a charismatic actor who played hundreds of heavies in Hollywood, but I don't recall him ever appearing in another sitcom. Projecting a perfect note of comic menace, Silva threatens the galaxy's safety while wearing a silly helmet that may have gotten him the gig a year later as Killer Kane, Princess Ardala's sinister chief of staff in BUCK ROGERS IN THE 25TH CENTURY. "May the Source Be With You", directed by veteran Hy Averback from a clever teleplay by Bruce Zacharias (REVENGE OF THE NERDS), is full of funny quips and nifty sight gags, like the scene in which a blinded Quark must rely on the Source's guidance to rescue Ficus from a pair of Gorgon torturers.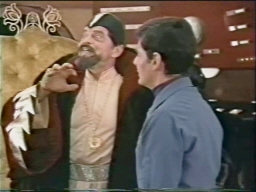 Another good episode is "All the Emperor's Quasi-Norms", a two-parter in which Ross Martin (THE WILD WILD WEST) guest-stars as Zargon the Malevolent, another evil dictator searching for a super-weapon with which to destroy the galaxy. His beautiful daughter (a pre-KNOTS LANDING Joan Van Ark) falls for Ficus, who schools her in an alien method of lovemaking ("Beebeebeebeeebeeeeebeeeee…"), and Gene and Andy disguise themselves as scientific lecturers.

The numbers weren't there for QUARK, and NBC cancelled it after just nine episodes were shot. Except for occasional airings on the defunct Ha! cable network, which eventually merged with The Comedy Channel to form Comedy Central in the early 1990's, QUARK has not been seen since. A DVD release of these episodes would be welcome, though you can't really say it's likely. Sony would appear to be the owners of the show, since it swallowed Columbia/Tri-Star, which has put out a few dramas on DVD, like CHARLIE'S ANGELS and T.J. HOOKER, but I don't know if they've done any sitcoms. QUARK would be perfect for a DVD release, and if there's a market for obscure '70s sitcoms like THAT'S MY MAMA and WHAT'S HAPPENING, it seems as though an audience for QUARK could be out there too.

Posted by Marty at 10:13 PM CDT