The Man With The Pyrite Gut
Now Playing: A MAN CALLED SLOANE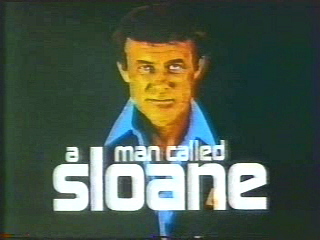 When NBC lured ABC president Fred Silverman over to take over their third-place (out of three, at the time) network, it expected big things. After all, in his three years at ABC, he made the Alphabet network a money-making machine, launching shows like STARSKY & HUTCH, THE LOVE BOAT, FANTASY ISLAND, LAVERNE & SHIRLEY, THREE'S COMPANY, ROOTS and CHARLIE'S ANGELS.

Magic didn't strike twice, as Silverman's Midas touch turned to stone. Some of the programs developed by NBC during his reign from 1978 to 1981 rank among television's most notorious flops. TV buffs know well what a laughing stock NBC became while pushing shows like HELLO, LARRY, SUPERTRAIN, THE MISADVENTURES OF SHERIFF LOBO, B.J. AND THE BEAR and C.P.O. SHARKEY onto the television audience. NBC's few hits were in late-night, where THE TONIGHT SHOW and SATURDAY NIGHT LIVE, which ripped Silverman a new one in an Al Franken-written sketch called "Limo for a Lamo", in which John Belushi portrayed Silverman, were the network's main source of advertising income.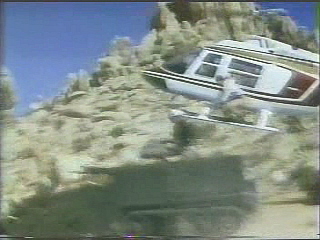 Another Silverman-bred series that didn't work was A MAN CALLED SLOANE, which was originally created by writer Cliff Gould (THE STREETS OF SAN FRANCISCO) as a light spy adventure like the James Bond movies. The original pilot, titled T.R. SLOANE, starred Robert Logan (77 SUNSET STRIP) as Thomas Remington Sloane, an agent of UNIT battling a megalomaniac who plans to cause havoc with a massive death ray. The villain's henchman was Torque (Ji-Tu Cumbuka), a 6'5" bald, black man with a mechanical hand who was clearly modeled after Richard Kiel's Jaws character in THE SPY WHO LOVED ME.

NBC liked the idea and the Torque character, but not Logan, sending Gould and executive producer Philip Saltzman on a hunt for a new leading man. Silverman suggested Robert Conrad, one of television's all-time most popular stars, who had hit it big in the 1950's on HAWAIIAN EYE and in the '60s on THE WILD WILD WEST. Conrad was ubiquitous during the 1970's, starring in several shortlived adventure series like THE D.A., ASSIGNMENT: VIENNA and BAA BAA BLACK SHEEP, as well as a ton of TV-movies and pilots. Saltzman reportedly argued that Conrad couldn't possibly do A MAN CALLED SLOANE, because he was already starring as an ex-boxer in the NBC series THE DUKE. "No problem," replied Silverman, "I'll just cancel THE DUKE." He did, and Conrad became Thomas Remington Sloane.

A MAN CALLED SLOANE was the first television series produced by Quinn Martin Productions after Martin sold his company to Taft Broadcasting. Martin was one of television's great producers, shepherding successful shows like THE UNTOUCHABLES, THE FUGITIVE, THE F.B.I., BARNABY JONES and THE STREETS OF SAN FRANCISCO. Part of Martin's deal with Taft, however, was that he had to relinquish hands-on involvement with QM shows, and SLOANE likely suffered as a result of his absence.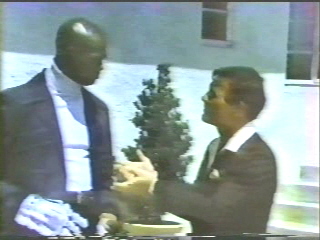 Thomas Sloane worked for a government agency called UNIT, which was based out of the back room of a Los Angeles toy store. There he and Torque, now a UNIT agent and Sloane's sidekick, took orders from The Director (Dan O'Herlihy, held over from the unaired pilot movie) and used gadgetry designed by cute lab assistant Kelly (Karen Purcill). They also received constant field information and advice from "Effie", a talking computer with the voice of Michele Carey (Elvis' leading lady in LIVE A LITTLE, LOVE A LITTLE).

Like Conrad's previous series, THE WILD WILD WEST, Sloane tackled a wide range of kinky baddies, including Roddy McDowall as a terrorist with a robot army, Robert Culp as a cosmetics entrepreneur plotting to take over the world by sending out gorgeous models to murder prominent men with their "kisses of death", Richard Lynch as a master of disguise and Dennis Cole as a 100-year-old Nazi meddling with cloning. Nearly every episode featured at least one prominent guest star--Eric Braeden, Edie Adams, Monte Markham, Clive Revill (the villain in T.R. SLOANE), Michael Pataki--as well as several sexy women for Conrad to canoodle with. Jo Ann Harris, the striking star of the Quinn Martin series MOST WANTED, appeared in the final episode, "The Shangri-La Syndrome", which was directed by Conrad and is probably SLOANE's weakest hour.


It was all pretty silly, of course, but definitely watchable. Conrad's physicality led to plenty of nifty stunts, chases and fights, and QM spared few expenses in whittling together colorful if cliched plots, sets, guest stars and location shootings. The camera loved Cumbuka, who purportedly didn't get along with Conrad, but was certainly a striking figure blessed with the neat gimmick of a steel hand that could wield various tools and weapons like a radio transmitter, laser, saw, drill or screwdriver. Some felt Conrad, a rugged man of action, was miscast as a suave secret agent, but I think he's just fine and has pretty good rapport with Cumbuka.

A MAN CALLED SLOANE began the 1979 fall season with decent ratings, knocking CBS' PARIS, a Steven Bochco cop show starring James Earl Jones, off the air and spurring ABC to shift HART TO HART to another night. But when ABC shifted FANTASY ISLAND from Friday to anchor its hit Saturday lineup, which included THE LOVE BOAT, SLOANE's number was up. NBC cancelled the series after just twelve episodes. Conrad continued to star regularly in TV-movies throughout the 1980's, although he may be as quickly remembered today for his notorious temper tantrum on the first BATTLE OF THE NETWORK STARS, which led to him getting smoked in a 100-yard dash by none other than Gabriel Kaplan!

By the way, NBC eventually dusted off that T.R. SLOANE pilot and aired it in 1981, more than a year after A MAN CALLED SLOANE's cancellation, as DEATH RAY 2000. This young 13-year-old couldn't have been the only viewer that night who was confused to see Robert Logan in Conrad's old role opposite Dan O'Herlihy…and Torque as the heavy!

Posted by Marty at 4:52 PM CDT