Brain And Brain, What Is Brain?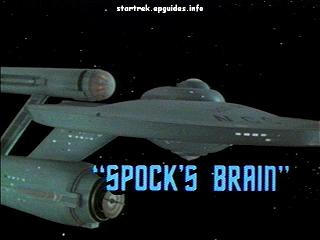 "Spock's Brain" is simultaneously one of the greatest and one of the worst STAR TREK episodes. Penned by a very good writer, Gene L. Coon (who sought to hide his participation behind his nom de plume of "Lee Cronin") and directed by the dependable Marc Daniels, who made more STAR TREKs than any other director besides Joseph Pevney, "Spock's Brain" was chosen by NBC to lead off the series' third season--a season that nearly didn't happen. The network had actually cancelled STAR TREK after its second year because of low ratings, but a massive letter-writing campaign and vocal fan outcry lured NBC into bringing the show back. The downside is that NBC only renewed TREK with a drastically slashed budget and in a killer 9:00pm timeslot on Friday nights, a time when few of TREK's young, upscale audience would be home to watch (the days before VCRs and TiVOs).

STAR TREK's budget was low enough, as those who like to mock its visual effects have noticed, but it seems as though the show's writing budget took a major hit. Scripts no longer came from the likes of celebrated science fiction authors like Harlan Ellison and Theodore Sturgeon, and stronger directors like Pevney and Joseph Sargent who were able to rein in the performances of a cast prone to hamminess gave way to hacks like David Alexander and Herb Wallerstein, whose episodes were mostly wretched.

Their shows were not bad in a good way either, although there is fun to be had in watching Shatner play an insane woman inside Captain Kirk's body in "Turnabout Intruder". "Spock's Brain", on the other hand, is one of the most entertaining hours of STAR TREK you will ever see. Its ridiculous premise, silly dialogue, wonky science and blatant plotholes aside, the episode also gives us appearances by the entire cast, a couple of fight scenes, beautiful scantily-clad women, some funny-looking props, and one of the show's patented indoor/outdoor sets. In other words, the best and the worst TREK has to offer.


The U.S.S. Enterprise is cruising along through space at warp speed, just minding its own business, when another spacecraft pops up on the bridge's viewscreen. While engineer Scott (James Doohan) is marveling at its advanced technology, a hot chick in knee-high boots appears out of nowhere on the bridge. A couple of security guys rush to help out, but the purple-clad hottie pushes a few buttons on her wrist remote, and knocks out everyone on the ship. For some reason, Captain Kirk (William Shatner) collapses head first in his captain's chair with his buttocks thrust towards the audience.

When everyone awakens (and, by the way, Kirk is always the first to come to), an urgent plea from Dr. McCoy (DeForest Kelley) brings Kirk to Sickbay, where he discovers the prone body of his Vulcan first officer, Mr. Spock (Leonard Nimoy).

Kirk: "Is he dead?"
McCoy: "He's worse than dead."
Kirk: "Come on, Bones, what's the mystery?!"
McCoy: "His brain is gone."

That's right--somehow the space hottie has managed to steal Spock's brain (a great drinking game would be to chug every time someone utters the phrase "Spock's brain") without even shaving his head. His "incredible Vulcan physique" remains alive on life-support, but only for 24 hours, which gives Kirk less than a day to find Spock's brain and put it back inside his head. During the entire scene, Scotty, who for some reason followed Kirk to Sickbay from the bridge, stands around saying and doing absolutely nothing. Maybe Doohan was getting paid by the scene and called Marc Daniels for a favor, I don't know. At any rate, it's funny to watch Kelley and Shatner having this serious conversation about Spock's brain while Doohan stands around with a shocked look on his face like he'd like to say something, but has nothing to contribute. Kirk leaves the meeting by demanding that McCoy and Scotty get Spock ready to travel, although he doesn't know where to.

The Enterprise crew finds an unusual ion trail and deduces that it must have been left behind by the spaceship that apparently carried the purple-wearing space hottie in go-go boots. Sulu follows it at Warp 6. Also, STAR TREK's special effects crew discovered the art of rear-projection technology this season. It used to be that whatever was shown on the main bridge viewscreen was matted in later over a blue screen, so no actor could stand in front of it. With rear-projection, they could, so Shatner wanders back and forth in front of it several times, just to show off the new effect. It does give the director a new camera angle to exploit, which was necessary after two seasons of shooting scenes on that tiny bridge set.


Eventually, the gang tracks the ion trail to one of three inhabited planets in the Sigma Draconis system. Using what information they have about each, none of them has a civilization capable of space travel. Kirk makes a guess, and a landing party beams down to a cold planet surface. The party consists of Kirk, Scotty, Ensign Chekov (Walter Koenig) and a couple of red-shirt security guards. Believe it or not, both red-shirts survive the episode. No drinking will be done on their behalf. The whole party ends up skirmishing with a bunch of cavemen who throw foam rocks at them. Kirk phasers them (on stun), and questions one of them, who doesn't know what a woman is, but tells them about The Others--"givers of pain and delight." Chekov finds a nearby cave stocked with food and an electric eye beam--aha, a trap!

Before they trip the trap to tangle with The Others, Kirk orders Dr. McCoy to beam down from the Enterprise with a surprise guest: Zombie Spock! That's right--it's a completely brainless, emotionless Spock, wearing bizarre metal headgear that I guess was designed by the geniuses that are Bones and Scotty and is operated by the ten-button remote control in McCoy's hand. So it's a radio-controlled Zombie Spock. Now available from Team Losi as a ready-to-run.

A few clicks of the remote, and Zombie Spock enters the cave, along with Kirk, Scotty and McCoy (Chekov and the red-shirts stay outside, warming themselves by a phaser-heated rock). The trap turns the whole cave into an elevator, which plummets, according to the apparent speed and length of their trip, several thousand feet underground. The door opens to reveal another space hottie in boots. She isn't wearing purple, though, and phaser-happy Kirk stuns her into submission. Questioning her is useless--she doesn't know jackshit about anything. Not just about Spock's brain, but anything, not even the meaning of the word "him." She only knows the crew is "not Morg or Eymorg." Heck, I knew that much.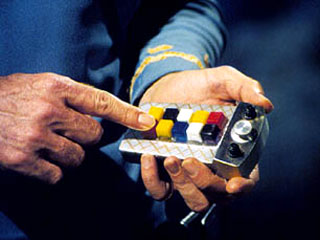 At this point, Zombie Spock begins to talk. Well, not really, but Scotty has somehow managed to pull in Spock's voice over his communicator. Yep, somehow the disembodied brain is able to figure the communicator's radio frequency and speak in Spock's normal voice. Just go with it. Spock doesn't know where the hell he is or why he's there, so the boys trample on, just to run into…her. The space hottie who stole Spock's brain! And she's got a couple of big dudes in bad costumes with her. She quickly grabs her wrist remote again and sends the landing party, except Zombie Spock, to their knees. Kirk is, as always, the last to succumb and will be the first to wake up. Star's privilege.

They awaken in a big conference room, somehow balanced on stools and wearing large belts with round buckles around their waists. An interrogation scene commences, with Kirk getting more and more pissed off, demanding to know where Spock's brain is, and the space hottie, who appears to be the leader of the underground society, shaking her head in a cute but frustrating way, her simple mind unable to grasp the concept of Spock, his brain or anything else, for that matter. We finally learn that her name is Kara. She's played by actress Marj Dusay, a very busy television actress then and now who acts today in daytime soaps.


Kara's blathering finally elicits something Kirk can use, her reference to "the Controller". Shatner's acting is great here, as he tries to fool Kara into believing suddenly, after all his hard talk about Spock's brain, that they have come to meet the Controller. Kara calls bullshit and knocks them out again. I guess the belts are used to knock them out using Kara's wrist remote, but since she was able to knock out 430 Enterprise crewmen who were not wearing belts, I have no idea why the belts are necessary.

Kirk, McCoy and Scott wake up (Kirk first, of course) to discover the women gone and their phasers and communicators guarded by those two big dudes. They kick their guards' asses…well, actually Kirk does. The manly captain handles one, while Bones and Scotty tag-team the other. Even though they are trained Federation soldiers, they aren't enough to handle one brainless dude, so when Kirk finishes off his man, using his patented Flying Leg Kick and Two-Fisted Blow to the Back of the Neck techniques copied by kids everywhere, he handles theirs too.

Off they go, RC Zombie Spock clicking along beside them, to find Spock's brain, which is apparently being used to, um, control everything. Scotty somehow zeros in on the brain, and they follow the readings to a room containing the Controller. Somehow, Kara is already in there and hits the zapper button on her wrist remote. The three men tumble to the ground again. This is hilarious, since it's obvious that Shatner demanded to be the last to fall, but Doohan is still struggling to stay up behind him, and you just know the two actors were whispering to each other while the cameras were rolling during the scene:

Shatner: "Fall down, Doohan, I'm the star here."
Doohan: "Screw you, Shatner, I'm tired of your bullshit."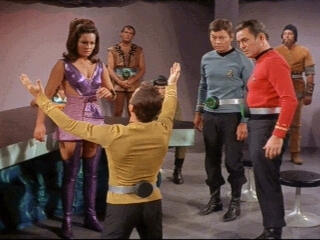 Finally, Doohan gets tired of dragging the scene out and falls to the ground, while Kirk grabs the Zombie Spock control, hits one of the unmarked buttons, and commands Zombie Spock to walk over to Kara and press a button on her control (she has only three buttons!), causing their belts to pop off. Only three buttons, and one of them exclusively removes the belts. Okay.

Here's where they figure out that they're basically in the boiler room and Spock's brain is operating all the electricity, water, life-support, etc. Kara pleads with them not to take the Controller, because then her people will all die. Kirk is all, screw that, how do I get Spock outta there? She points towards a large, glass, bubble-headed old-fashioned hair dryer and calls it The Teacher. Put on the Teacher and you'll learn all you need to about stealing brains and stuff. Kirk makes her put it on, and, presto, she's smart now. Smart enough to yank a phaser out of her skirt. How it got there and why, we don't know. I don't think even Gene Coon knew. All I know is that she's got a phaser--set to kill--aimed right at Kirk's gut, which is about three inches away. Scotty, standing three inches to the side and a master of battlefield tactics, lets out an overly melodramatic moan, distracting Kara and allowing Kirk to grab the phaser. McCoy puts the Teacher on, figuring it will give him the medical knowledge necessary to put a brain back inside a Vulcan head without marring the hair on it. "Of course…a child could do it," a slightly maddened-looking McCoy mutters.

Now McCoy is furiously operating on Zombie Spock, whose head is sticking through a hole in a partition. Why a surgical table and instruments are readily available in the boiler room, I don't know. McCoy is operating like a madman, fast, precise, until…

Scotty: "Captain Kirk, he's…forgetting!"

The Teacher starts to wear off, and McCoy starts freaking out. "All the ganglia, nerves, a million of them…what am I supposed to do?" Captain Kirk knows. He orders Bones to reconnect Spock's vocal cords. Spock, I guess, already knows advanced brain surgery, so while he's lying on the table with his head split wide open, he starts telling McCoy what to do. Put that there, attach that there, mmm, yeah, that's perfect, thanks. That this is not the stupidest part of the episode says a hell of a lot about "Spock's Brain".

Spock sits up, hair unmussed, and starts babbling nonsense about the technical aspects of running the ladies' room plumbing with his brain and all else that has occurred. The brilliant freeze-frame parody endings on POLICE SQUAD will pop into your head, as Kirk, McCoy and Scotty laugh at Spock's clueless utterings, and Shatner ad-libs an out-of-character gag by grabbing the remote control from Kelley and dramatically cranking it in a humorous effort to shut Spock up. Meanwhile, Kara and Her Space Hotties are left without a Controller to heat and operate their elaborate underground society (that we see only three or four members of), so now they have to move to the surface and freeze their asses off with the illiterate cavemen up there. Thanks a lot, Kirk, you jagoff.

Many good episodes were to come in STAR TREK's third (and final) season, but few as entertaining as "Spock's Brain".

Posted by Marty at 1:00 PM CDT
Updated: Sunday, August 14, 2005 1:04 PM CDT