I'm Not Gonna Box You. I'm Gonna Whup You.
Now Playing: SAW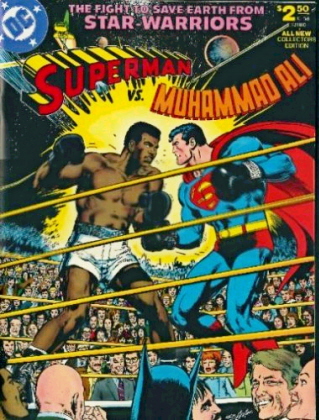 Here's another reason why comics today suck. No company today would even attempt to publish a 72-page tabloid-sized comic with cardboard covers that pitted the Man of Steel against the most popular and most powerful fighter in the world.
SUPERMAN VS. MUHAMMAD ALI (technically ALL-NEW COLLECTORS' EDITION #C-56) is one of my favorite comics. It was written and drawn by Neal Adams, one of the industry's leaders and an artist whose impact on comics cannot be overestimated. From the time he began working on DC Comics covers in the mid-1960's, establishing an exciting new trend in "realism", comics were never the same. The work he did with writer Denny O'Neil on DC's GREEN LANTERN/GREEN ARROW title, which brought relevance and a new level of maturity to a medium best known as kids stuff, remains some of the most important comics ever created.
By the late 1970's, Adams was no longer regularly employed by DC or Marvel, having started his own stable of artists and branched off into other media, such as film posters and stage productions. He began as an advertising artist and moved into comic strips like BEN CASEY before his comic-book career, so comic books were not the be-all and end-all for Adams.
Pitting Superman and Ali against each other sounds like a no-brainer, but it took Adams, O'Neil (who began writing the project, but dropped out partway through) and editor Julius Schwartz to make it happen. The premise is terrific: a group of aliens invade Earth and demand that our greatest fighting champion take on theirs with the planet's future as the prize. Neither Superman nor Muhammad Ali can decide which of them is the world's biggest champion, so the aliens beam them both to a planet that revolves around a red sun (which saps Superman's powers) to duke it out for the Earth title. Ali ends up kicking Supes' ass, but the Man of Steel gets his powers back and opens a couple of cans of whupass on the invading aliens.
Adams told COMIC BOOK ARTIST that SUPERMAN VS. MUHAMMAD ALI is the best story he ever did. It's certainly one of his most fun, taking two of our greatest heroes and teaming them up on an extraterrestrial adventure with no less than the entire Planet Earth as the stakes. The comic is also notable for its wraparound cover, which includes hundreds of familiar and not-so-familiar faces in the crowd watching the fight. Everyone from fellow DC staff to big names like John Wayne and Johnny Carson are on the cover. One problem that arose is that Adams drew the cover without clearing the rights to use the likenesses. It was a chore for DC's legal department to track down and receive permission from all those celebrities. Most of them were cool, but you'll notice a guy with a mustache sitting next to Ron Howard. That was originally Henry Winkler, but the Fonz refused to give permission, and the likeness was altered.
Posted by Marty at 10:32 PM CDT