The Great White Hope
Now Playing: THE WHITE SHADOW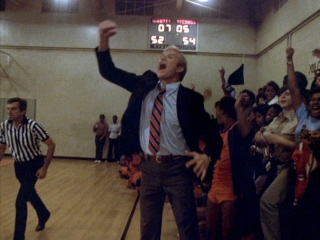 Kudos to Fox for releasing the first season of THE WHITE SHADOW on DVD (and Season 2 is coming early next year). I actually remember quite clearly watching the pilot when it aired on CBS in 1978. We had some relatives over at the house for a visit, and while the adults were chatting in the kitchen over coffee, my brother, my cousins and I were in the living room watching THE WHITE SHADOW. It was a terrific show and went on to spawn what, to this day, remains probably the finest sports-related TV series.
MTM was a production company well known during the 1970's for its sitcoms, primarily THE MARY TYLER MOORE SHOW, THE BOB NEWHART SHOW and WKRP IN CINCINNATI, but with LOU GRANT, it had begun to move into the arena of one-hour dramas. THE WHITE SHADOW creator and executive producer Bruce Paltrow, the husband of actress Blythe Danner and father to a little girl named Gwyneth, cast 6'6" actor Ken Howard in the title role as Ken Reeves, an NBA journeyman whose basketball career was ended by a knee injury and was invited by his old college chum Jim Willis (Ed Bernard, a veteran of POLICE WOMAN and COOL MILLION), the principal at Carver High School in inner-city Los Angeles, to coach basketball there.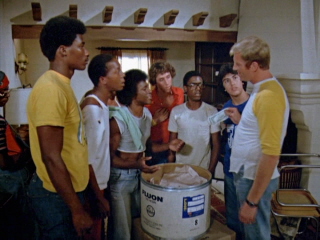 For Reeves, a brash, blond, blue-eyed pro ball player, life at Carver was a revelation, as he seemed to have little in common with his players, who, with the exception of a Chicano, an Italian and a Jew, were poor black ghetto kids. They were all basically "good kids", but not the best students, and they had a penchant for getting into trouble. He soon came to care about them, however, and became the Mary Worth of the hardwood, constantly sticking his nose into his team's day-to-day problems and bailing them out of trouble.
Paltrow and producer Mark Tinker used the show's format to tackle hot-button issues of the day in a manner that threatened to turn the show into The Social Problem of the Week. In the first eight episodes, THE WHITE SHADOW looked at teenage alcoholism, teen pregnancy, gangs and homosexuality. In the latter, Peter Horton (THIRTYSOMETHING) guest-starred as a young transfer student who joins the Carver basketball team, but is soon plagued by the same rumors that drove him away from his former school, "fag rumors", according to Carver's officious vice-principal and Reeves' frequent nemesis, Sybil Buchanan (Joan Pringle).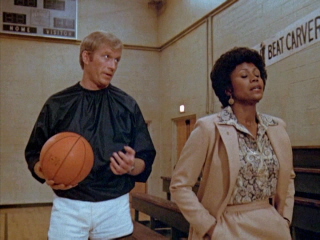 Many early episodes were directed by Jackie Cooper, who won an Emmy for the pilot. The basketball scenes are fluidly staged and lensed with Cooper managing to acquire some interesting shots while not letting the camera interfere with the action. Whether Howard and the supporting cast knew anything about basketball, I don't know, but it sure looks like they do. THE WHITE SHADOW earned two Emmy nominations for Outstanding Dramatic Series during its three-season run, but Cooper's was the only trophy the series won.
Also of note are the actors who did such a good job playing the Carver basketball team. It must be a testament to Paltrow (who went on to create ST. ELSEWHERE), Tinker (a producer on NYPD BLUE) and Cooper that three of them--Thomas Carter (Hayward), Kevin Hooks (Thorpe) and Timothy Van Patten (Salami)--have gone on to very successful directing and producing careers in television and features. In a way, their decision to forgo acting careers is a shame, in that Carter and Hooks, in particular, were very good on the show (Carter has a magnetic presence that meshed well on-screen with Howard).
On a trivial, if no less memorable, note, THE WHITE SHADOW boasted a kickass sax-driven theme by Mike Post and Pete Carpenter, and replaced the usual MTM Productions "meowing cat" logo with one of a kitten dribbling an animated basketball.
Posted by Marty at 11:32 PM CST