They Called It God's Country
Now Playing: VIGILANTE FORCE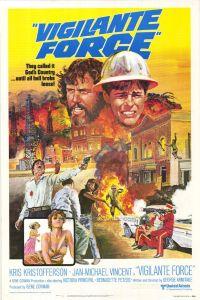 Here's a trashy action movie produced not by Roger Corman, but by his brother Gene, who was also a prolific Hollywood producer whose projects were usually a little classier and budgets a little higher than Roger's.
VIGILANTE FORCE is an exciting though implausible actioner written and directed by George Armitage, an interesting and unfortunately sporadic filmmaker who got his start working for Roger Corman at New World Pictures. He wrote GAS-S-S-S! and NIGHT CALL NURSES and directed PRIVATE DUTY NURSES before going to MGM to direct HIT MAN for Gene Corman. VIGILANTE FORCE was Armitage's third feature as a director, and strangely also his last for 14 years: 1990's MIAMI BLUES. That is a terrifically offbeat crime comedy, but Armitage's best film came out seven years after that: the wild black comedy GROSSE POINTE BLANK, which cast John Cusack as a hitman attending his suburban high school reunion. It's an excellent comedy that did little for Armitage's career for some reason I can't fathom. His next movie was the 2004 flop THE BIG BOUNCE, and who knows if he'll get another shot. If so, it won't be 'til 2011, so we've got time to prepare.
VIGILANTE FORCE casts Jan-Michael Vincent as a tractor salesman in a rural Southern California community that has been overrun by rowdy oil riggers that have brought violence, drunkenness, disorder, gambling and murder to the formerly quiet town. The police--at least the ones who haven't been killed by bank robbers--aren't equipped to handle the situation, so the town enlists Vincent to recruit his brother Kris Kristofferson, a Vietnam War veteran, to keep the peace.
Kris agrees to come home and brings his war posse with him, including Shelly Novack (THE F.B.I.), Charles Cyphers (HALLOWEEN) and Carmen Argenziano (THE HOT BOX). Soon, Kris discovers that being a cop is chump change, and decides to take over the town for himself. Oh, he does his job alright. There's little crime left in town...that is, aside from his own major crime ring. After Kris murders his brother's girlfriend (a scrumptious Victoria Principal) and the sheriff, it's up to Jan to end the violence.
VIGILANTE FORCE is a good movie, very well paced with plentiful action sequences and explosions. Both Kristofferson and Vincent were major Hollywood players at the time, and they perform believably as brothers. They're also often shirtless, and it's a nice change from today's movies to see action heroes built like normal human beings. If you pay attention, you'll see a pre-WKRP Loni Anderson in the cast as "Peaches", along with Andrew Stevens, Brad Dexter from THE MAGNIFICENT SEVEN, David "Bosley" Doyle (CHARLIE'S ANGELS), Paul "You're mine for two months, Bender" Gleason (THE BREAKFAST CLUB), Antony Carbone and Bernadette Peters.
It's an unassuming, straightforward action movie with not much more to say about it, except that it's crafted very well and worth watching. Also worth noting is the kickass theatrical trailer for this PG movie, which features a great Ernie Anderson narration.
Posted by Marty at 10:34 PM CST