Missed By That Much
Now Playing: MONDAY NIGHT FOOTBALL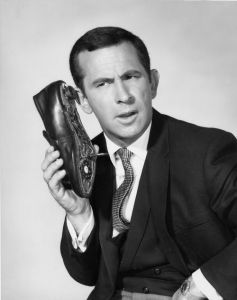 Just a few days after sitcom legend Bob Denver (GILLIGAN'S ISLAND) passed away comes news of another death: Don Adams, the Emmy-winning star of GET SMART!

Unlike many fans, I didn't get to grow up with GET SMART!, since it was never rerun on any TV station in the Champaign-Urbana market. I remember seeing a couple of episodes in motels while on family vacations, but it wasn't until TV Land began airing it in the 1990's that I got to see GET SMART! on a regular basis. Created by Mel Brooks and Buck Henry, neither of whom had anything to do with the series after the pilot, GET SMART! is perhaps the only commercially successful spoof in TV history. Series like POLICE SQUAD, WHEN THINGS WERE ROTTEN (another Brooks show) and SLEDGE HAMMER! followed in GET SMART!'s footsteps, but none came anywhere near the five-season run or multiple Emmy trophies of their predecessor.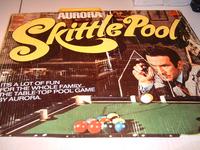 I actually came to know Adams through his voicing of Tennessee Tuxedo, a wisecracking penguin who teamed up with a dumb walrus named Chumbley on a popular cartoon series I watched a lot as a kid. He also appeared on the box and in commercials for an Aurora toy called Skittle Pool; I understand Adams won a Clio for directing the commercial.

GET SMART! is a marvelously clever TV series, a spoof of the many spy movies and shows that were so popular at the time, ranging from the James Bond movies to THE MAN FROM U.N.C.L.E. Adams was idiotic CONTROL agent Maxwell Smart, a bumbler who always somehow managed to stop the nefarious plans of rival spy agency KAOS, usually with the assistance of his gorgeous partner, Agent 99, played by the brainy and beautiful Barbara Feldon.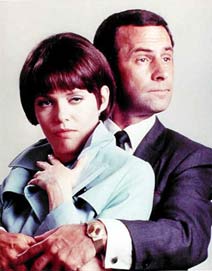 Catchphrases like "Would you believe...?", "Missed by that much" and "Sorry about that, Chief" became widely imitated, and running gags like the Cone of Silence and other wild gadgetry were hallmarks of the series. But most of all, GET SMART! was successful because of its star. Adams never really did much after GET SMART! went off the air, perhaps because of typecasting. He was certainly a very talented comic actor, a master of the double take and able to wring every last laugh out of a gag by punctuating the lines with that distinctive Maxwell Smart voice (which was not how Adams regularly talked, by the way).

Adams reprised the character in THE NUDE BOMB, which was one of the first (but not the first) times the cast of a successful television show got to star in a theatrically released sequel. Motion picture remakes of old TV shows are common today, but this was an example of a reunion movie being made for theaters, and was perhaps inspired by STAR TREK: THE MOTION PICTURE. Universal released it with a PG rating in 1980, and it was not a critical or box office hit, probably because GET SMART!'s supporting cast, including Feldon, Dick Gautier (Hymie the Robot), Bernie Kopell (Siegfried) and King Moody (Starker) were not included in the film. Feldon's absence was a particularly stiff blow to GET SMART fans, and the cheap production values (the Universal tour plays a large part in the action) and clunker-filled script didn't give Adams much to chew on. Adams also came back to play Smart in the very good made-for-TV sequel GET SMART AGAIN! (which wisely featured the old cast, including Feldon) and in the short-lived 1995 Fox TV series GET SMART, in which Adams and Feldon played the parents of a new bumbling CONTROL agent, played by, of all people, Andy Dick (NEWSRADIO).

GET SMART! is scheduled for a DVD release early next year. It's a shame Adams didn't live to see them come out, but let's hope he was available to participate in some bonus features for the DVD. He apparently has been in ill health for several years now, and, at age 82, it seems unlikely he could have been too active with the DVDs, but it certainly would be a wonderful bonus for those of us who appreciated his fine talent.

Posted by Marty at 11:25 PM CDT
Updated: Monday, September 26, 2005 11:36 PM CDT