There's No Bee There
Simply one of the funniest fucking things I have ever seen in a movie: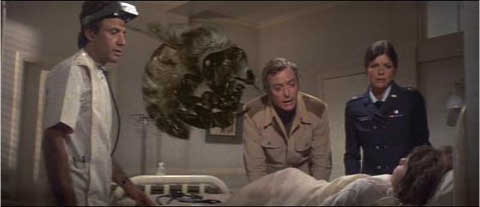 Yep, it's Michael Caine trying to convince a freaked-out little kid that the giant fucking bee that's floating over his hospital bed is just a hallucination. "I promise you. There's no bee there."

If you've never seen THE SWARM, Irwin Allen's all-star disaster flick about a swarm of killer bees infesting the United States, do so immediately. There's a good chance that no comedy you see this year will make you laugh as much as THE SWARM.

Posted by Marty at 10:56 PM CDT