Only 900 Miles There And 900 Miles Back
Spent the evening with LD, Train Guy and their wives grilling huge steaks and watching SMOKEY AND THE BANDIT on DVD. Life don't get much better than that. Considering the many times I've seen SMOKEY and the countless evenings at Tres Hombres my friend Jerome and I spent reenacting entire scenes from the movie, I've got the whole thing pretty much memorized by now. How anyone could ever get tired of Burt Reynolds telling cops to "f.o." while jumping bridges in a sweet Trans Am, I'll never understand.
SMOKEY II--not so good. SMOKEY 3--the less said, the better. The only thing that interests me about the third movie is the rumor (is it more than that?) that it was originally shot as SMOKEY IS THE BANDIT with Jackie Gleason donning Burt's cowboy hat. The result was reportedly unreleaseable, forcing Universal to lure in Jerry Reed to drive the Trans Am and play the Bandit opposite Gleason as the sheriff. Reynolds came in for about 12 minutes to shoot a quick cameo, and SMOKEY AND THE BANDIT 3 died a deservedly quick box-office death. Now that I have it on DVD, I wonder if I'm brave enough to revisit it. I would definitely watch SMOKEY IS THE BANDIT if a bootleg copy existed.
A lot of great television is coming out on DVD these days. So much that I can't figure whether or not I should buy it all. Partially because of cost and partially because when the hell would I watch it all? I'm simultaneously working my way through Season 1 of THE ROCKFORD FILES and Season 2 of THE WHITE SHADOW now. My three favorite western series are either just out or coming soon on DVD: THE BIG VALLEY, THE WILD WILD WEST and THE ADVENTURES OF BRISCO COUNTY, JR. BRISCO COUNTY is an absolute must-buy; I've been waiting for this set ever since it was rumored back in the '90s that star Bruce Campbell had recorded audio commentaries for them. THE WILD WILD WEST has a lot of extras, including commentary by Robert Conrad, which may make Season 1 (the b&w year) a sure-buy too. THE BIG VALLEY, a great show, basically a gender-switched BONANZA with matriarch Barbara Stanwyck looking over her three sons (and daughter Linda Evans), another I want to catch up with. Perhaps that's one I should Netflix (as I'm doing now with WHITE SHADOW).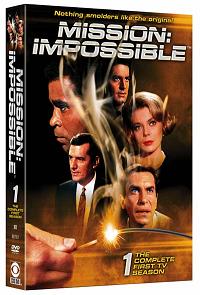 A definite must-buy is one of my favorite shows, period. Season 1 of MISSION: IMPOSSIBLE is coming to DVD in September. When it was first announced, I expected Paramount to start with Season 2, which was the year Peter Graves took over as the star. However, the studio is starting from the beginning, when the great Steven Hill headed a cast that also included Martin Landau, Barbara Bain, Greg Morris and Peter Lupus. Hill proved to be an enormous pain in the ass for everyone involved with the series, including executive producer Bruce Geller, who fought to cast Hill against the vehement wishes of CBS execs who didn't want him. Hill was basically fired before the season even ended, which was likely fine with all parties. Graves, already a dependable TV actor, became an international star through running the Impossible Missions Force for the next six seasons, so I'm sure he was happy to get the gig.
Extras or not (and none have yet been announced), M:I is going to be in my Top Ten DVDs of 2006. I like the box design, although I don't know why Paramount didn't use the original show logo. I have no idea where this one came from. Was it for the first Tom Cruise movie?
Posted by Marty at 11:01 PM CDT