Um. Ouch.
Yikes. I'm a little sore right now. I played basketball after work. Well, more like we shot baskets, but we did it for two hours. That was two hours of being on my feet, chasing rebounds, jumping around, no sitting (or very little). My shot is terrible too. If I were to hazard a guess as to my shooting percentage, I'm sure it's under 20%. There was some ugly hoops going on this evening. Still, it was a good time, and I enjoyed a tasty pork chop sandwich at Esquire afterward.
So you were asking for more ROCKFORD FILES reviews? Yeah, you were.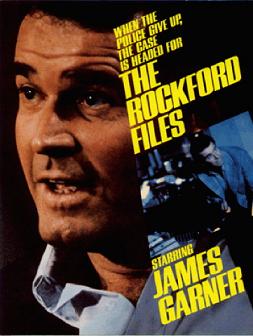 OK, so now that everyone is gone, here's "Exit Prentiss Carr". It would be interesting if somebody were to keep count of all the times Rockford was either arrested or just harassed by the police. Jim manages to avoid the clink in this episode, but the small-town detectives played by venerable character actors Warren Kemmerling and Mills Watson (later to portray a more comedic corrupt cop in THE MISADVENTURES OF SHERIFF LOBO) do rough him up a little bit ("I bruise easy.").
One important lesson taught by 1970's TV is that you should never, ever pass through a small town where nobody knows you. Particularly if that town is located in the South. Just about every TV detective ended up poking around one--Mannix, Cannon, Charlie's Angels--and it always led to trouble. Not as bad as the TV-movie NIGHTMARE IN BADHAM COUNTY, where two luscious coeds ended up in a womens' work farm after getting raped by sheriff Chuck Connors and ogled by pervy warden Robert Reed, but bad enough.
In this episode, Rockford enters Bay City in search of Prentiss Carr, the husband of Jim's old flame Janet (Corinne Michaels, who also appeared in many shows billed as "Corinne Camacho"). Rockford finds Carr dead in a motel room and tells the Bay City cops--omitting the part about actually being in the room. The cops call it a suicide, even though the evidence Rockford saw there was obviously that of a murder. He accuses the cops of being corrupt and his client of being her husband's killer. Typical of a Roy Huggins story, the plot is more complex than that, throwing in blackmail and a late-act red herring.
It's a pretty good episode with good dialogue and another car chase (every episode up to this point had one). Cult movie fans will enjoy a brief wordless performance by the delicious Roberta Collins, a pretty good actress who never really got out of B-movies. She's probably most memorable as one of the convicts in THE BIG DOLL HOUSE, the sex-crazed con who tries to seduce a man by pointing a knife at his junk and warning him, "Get it up or I'll cut it off!" Director Alex Grasshoff was a three-time Academy Award nominee for Best Documentary who turned to episodic dramatic television around this time, presumably for the bucks and the comfort of steady work. In 1974, he also worked on GET CHRISTIE LOVE, KOLCHAK: THE NIGHT STALKER and THE ROOKIES.
Posted by Marty at 9:12 PM CDT